Posted by Laura McNeely on Jun 10th 2019
It's never too late to decorate for Summer. In fact, it's a great excuse to update your home's decor, and many Summer ideas can be used all year long! We've come up with some helpful tips for Summer decorating you can use for other seasons or around the year.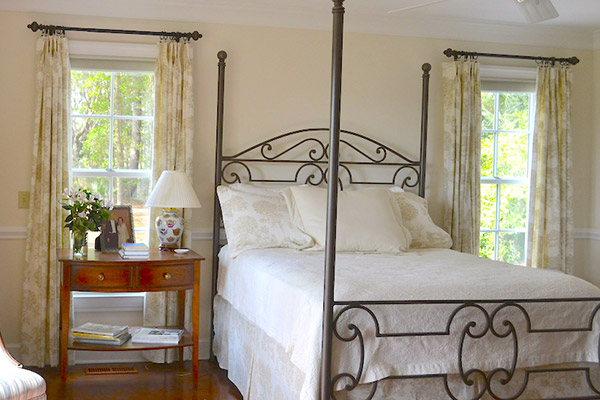 Turn Your Bedroom into a Dreamy, Summertime Oasis
It's no designer secret that a new duvet cover can makeover your bedroom in no time. But a coordinated look using pillows, sham and curtains along with a duvet cover can transform your bedroom into the summer oasis of your dreams. Be on the lookout for beach-inspired patterns and colors (like blue, yellow and aqua) which are perfect for summer decorating.
You don't have to go "beachy" with everything. Check out one of our customer's photos above using French Country Linen Beige. This collection's toile, ticking and gingham fabrics have a traditional look with loads of charm.
Summer Decorating Tip: Lighter fabrics like linen and cotton work great for summer bedding even when the weather is warm.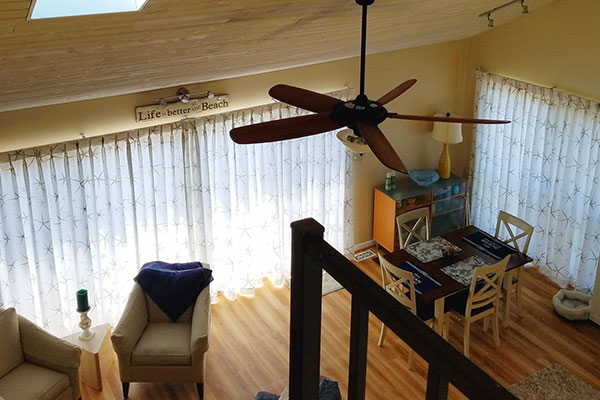 Update Your Living Room in No Time
This one is easy. Switch out your decorative pillows on your sofa, chairs and sectional. Adding a new pillow is a super simple way to give any room a quick summer fix up. Pillows don't have to be the same fabric, but we recommend choosing a coordinated look from one of our fabric collections. The "mix of matched" look will have your guests asking how in the world you were able to decorate like a pro. (Don't worry. We won't tell!)
A living room's decor can also benefit from a fresh set of curtains. Take a look at one of Lorraine's beach house living room above using our Garden Party Sand Sea Star fabric. Whether you live on the coast or you are land-locked and longing for the water, you can enjoy a custom look this summer, or all year long!
You can also match the color with your rug, curtains and lighting to complete your theme.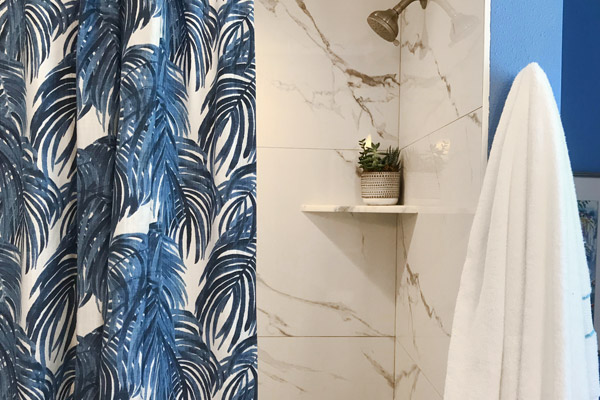 Brighten your Bathroom with Summer Shower Curtain
Replace your shower curtain this season and you will change the mood of your bathroom with little effort. It's an easy and cost-effective way to update! You can rotate shower curtains in and out for every season if you clean, dry, and store your seasonal shower curtains.
Summer Decorating Tip: Have one set of seasonal towels to match with your new shower curtain. Switch them out with your shower curtain and presto… a summer transformation!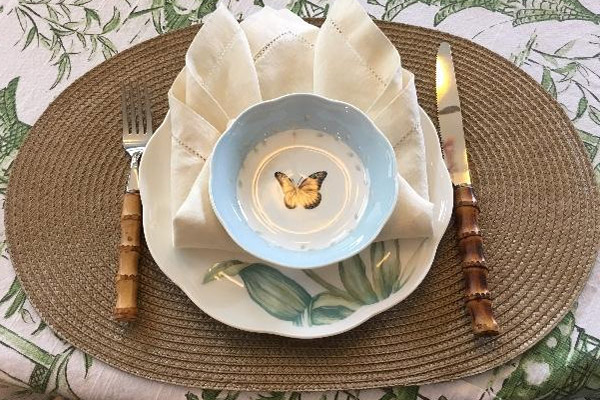 Transform Your Dining Area with a New Tablecloth
Nothing brightens up a dining room better than a fresh tablecloth with a summer setting! Our tablecloths come in all our fabrics, so start here to choose your favorite. Use fresh flowers or beach items such as shells or driftwood to evoke a nostalgic feeling of the coast. Even if you are opposed to a full coastal theme in your home, you can add touches of beach style in any room by working with your color palette. Or add a table setting like our customer's above, with botanicals and natural elements.
More Tips for Year-round Summer Decor
Flowers are nothing new, but adding candles creates tabletop decorations perfect for summer entertaining. Mix shapes and textures, and complement color with wildflowers and herb blossoms you can find around your yard.
Regardless of your home's overall style, design or decor, you can always add some nautical summer decorations to give your home a relaxing and refreshing touch. Adding colored lanterns, vases of fresh or faux flowers, and accent rugs will brighten up your room or area.
If your favorite place is the beach, add a basket of seashells on your coffee table or a printer's tray of shells against a wall. You've been wanting to use that big glass bottle you found at the flea market, right? Fill it with shells and put it on display. Or how about the treasures you and your family have gathered from beach trips of long ago? Put them to use in vases and bottles to start a conversation in your room.
Summer Decorating Tip: Don't overcrowd an area with a lot of summer decoration or matching flowers. There is such a thing as too much!
Don't feel like you have to overhaul a room for summer or change out your entire house. Choose accessories in the same color palette you already have in your room and you will be up to speed in no time.
Take the Guesswork Out of Matching Fabrics
Looking for summer fabric to decorate with but are afraid to commit? We offer FREE swatches so you can see exactly what you'll get.
As always, happy decorating!