Posted by Laura McNeely on May 22nd 2019
Tribal Elements are HOT!
The Tribal style is a mix of ethnic influences from around the world, pulling cues from African and Native American cultures. Organic prints and patterns in monochrome or earthy tones lend a worldly look to any home. Since last year, this travel-inspired trend has taken the design industry by storm. The good news? You don't need to travel to the other side of the world to decorate your home. Choose products from any of our tribal fabric collections and we'll have you turning your space into an oasis of "native chic" in no time.
Adding tribal accents to a room produces a sense of hand-made elegance and appreciation for worldly cultures and design styles. Want to get it right? Read on for some helpful hints and how-to's for your home.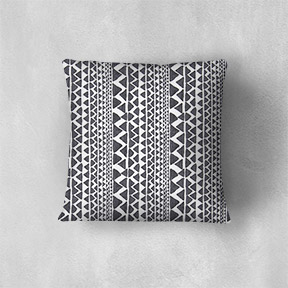 Add a dash of culture to your living room
Looking for a simple way to start going tribal? Begin by adding a tribal throw pillow to a solid colored couch. The natural patterns and bold lines will bring a dynamic energy to traditional styles. Easy!
A fabric we'd recommend is in our Bricktown Spice Collection, called Mario Black Flame. The mixed sizes and shapes of this fabric's patterns will gently break the lines of any solid chair or sofa.
Design hint: Use accessories such as ceramics, decorative throw pillows or wall hangings to tie the room together.
---
Bring a dramatic splash to your bathroom
Adding a tribal shower curtain to your bathroom is an easy way bring a lively look to any bathroom.
Some tribal patterns can be soft and elegant. Our Teglan Rosedust is just that—a fine basketweave fabric with an intricate tribal design in soft shades of gray, beige and rose. And like all our fabric collections, it's available in EVERY product on our site!
---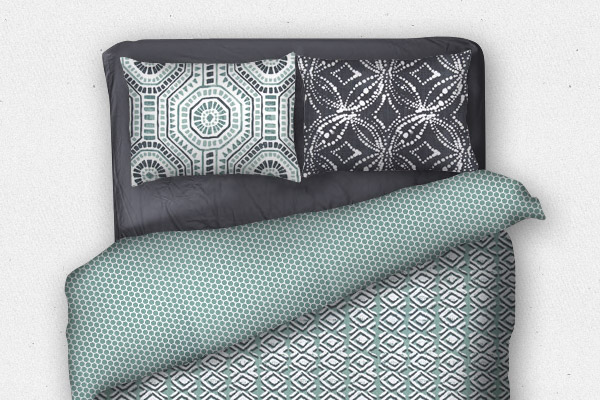 Create an exotic look in your bedroom with coordinating Tribal patterns
Go all the way by utilizing several coordinating tribal fabrics! Although adding just a hint of pattern is enough for some decors, others can get a special bump by using a coordinated look.
Our Bricktown Waterbury Collection is a great example. It's hand-painted geometric designs feature imperfect octagons, triangles, and dots in shades of spa green, blue-gray and black. Add some handmade pottery or a rattan chair and your personal paradise has gone tribal!
---
Accessorize with other Tribal decor elements
We know it's not all about the fabrics. Try accessorizing your room. Here's a few ideas...
Casually drape wooden beads in various areas of your home. Add them to a console table. Choose beads in a neutral color, and you'll be amazed at the way they add texture and conversation to your room.
Add a reed or woven basket. These can be placed under sofa tables, on fireplaces, or just about anywhere!
You can also use a well-traveled basket or weaving as wall art.
Wondering what to do with that random wicker chair? It will be perfect in your new tribal decor! Take it a step further by adding a decorative throw pillow.
---
Have fun with Tribal!
Decorating with tribal patterns and fabrics can be a fun way to spice up a room. Incorporating tribal motifs is an opportunity to pull eclectic, exotic and striking designs into your home's decor. Contact us with any questions when looking for coordinating bedding, bath and curtains!