Posted by Laura McNeely on Dec 17th 2019
Make your bed luxurious! We spend around 1/3 of our lives in our bed, so why not make it inviting? And to have a beautiful bedroom, you need to pay attention to your centerpiece: your bed. Your bedroom can look luxurious on a budget, and Close to Custom Linens is here to help.
When decorating the perfect bed, it's all about layers—sheets, coverlets, duvet covers, bedskirts and… pillows—lots and lots of pillows! And shams, don't forget the shams. Here are some tips for making your bed perfect for relaxing, reading, watching TV and of course sleeping.
Coordinate the Look
The perfect bed for your style can be obtained by mixing and matching fabrics for all components. We've done the matching for you with our coordinating fabric collections, which focus on three things: material, pattern and color. It's good to use a variety of each, that way the bed doesn't look flat. Accent pillows can be used in solids or prints to give you a coordinated look.
Two Ways to Use Duvet Covers to Decorate Your Bed
A duvet cover is like a sleeping bag for your comforter. You can use it as your cover, or fold it in half, then in half again, and place at the foot of your bed to build a plush feel. Go neutral or go all out with one of our decorative fabric collections.
We offer decorative duvet covers in EVERY fabric of every collection on our website, in sizes to fit your bed: twin, full, queen, king and California king. You have the option of fabrics for both sides. Choose two coordinating fabrics for both sides, or the same fabric for a fully reversible duvet cover.
Pair Your Duvet Cover with a Matching Bedskirt
Add a coordinating bedskirt in the same fabric collection, and you will be on your way to upfitting your bedroom! Our bedskirts are available in either a gathered or a tailored style, in three different drop lengths.
Use Pillow Shams for Support or Accents
Shams can be utilized to build the layers on your bed, or they can be the accent themselves. Take a look at the bedroom pic below to see how Carly the Prepster used our Zira Bisque Gray Medallion shams to bring character to her neutral bedding. We offer shams in Standard, King and Euro sizes—in tailored and ruffled styles—so the sky is the limit for layering in support and accents!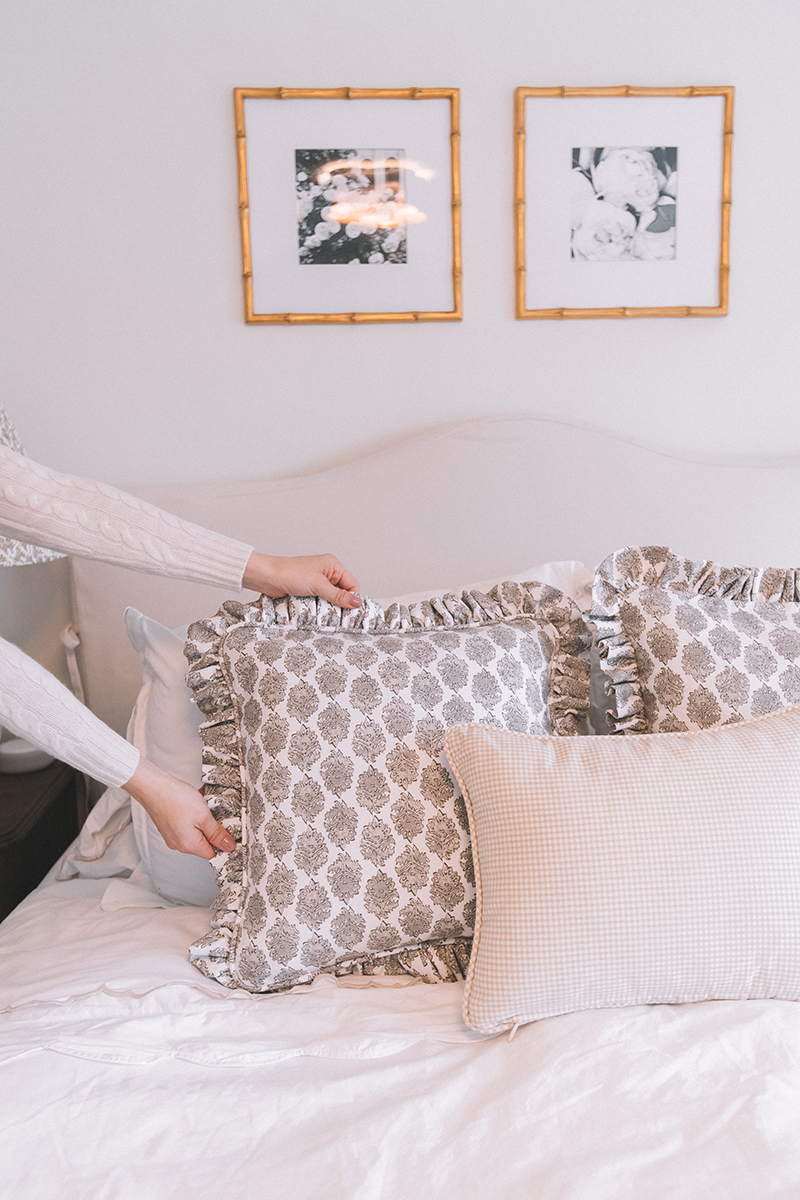 Depending on the size of the bed, use Euro shams to fill in the entire back of the bed.
Use Decorative Pillows to Unify Your Bedroom
Often adding one more pillow can be the finishing touch. Pull your bedroom together by matching curtains or a side table with tablecloth with one or more decorative pillows or shams. This is exactly what Close to Custom Linens offers through our coordinated fabric collections, which bring materials, pattern and colors together for a perfect look.
PRO TIP: Pillows should look structural and stylish at the same time. Try facing the front row(s) of decorative pillows toward the door. This makes for a wonderful entrance!
What is the Right Number of Accent Pillows When Decorating a Bed?
There is no right or wrong. We recommend an odd number of decorative pillows but go with what looks good to your eye and what feels good to you. So if you want your bed to be plush with decorative pillows—go for it! Use at least 2 or 3 layers of pillows to provide some depth and character. And remember to plan where all those pillows will go when the bed is used for sleeping.
How to Arrange Pillows on a Bed
There are a multitude of combinations and arrangements for using decorative pillows on a bed, but here is a simple diagram of the basics for a king, queen/full and twin bedding setup:

PRO TIP: Want to know how to get those hard, tight pillow corners like professional interior designers and decorators? Fluff them up as big and full as possible, then place, give them a karate chop right in the middle.
You'll be Thrilled with the Results
Once you're done with your bed, stand back and admire. Or, would you rather get in and take a cozy nap? Let us know any questions or suggestions for decorating your bed. Until then, happy decorating!