Posted by Laura McNeely on Oct 15th 2018
We love hearing from our customers. Kristy T. shared this photo and these comments about her decorating project!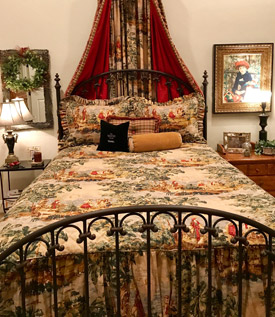 "I had a twin size skirted coverlet in this vintage style toile in 2005. After my mom's passing this past July, I decided to switch out that twin bed with her queen size metal bed. The rest of the room's decor, including a crown canopy, coordinated with the toile fabric so I needed to find someone to make a queen size skirted coverlet in the same fabric. I found Close to Custom online and was able to make contact with Laura, who found the same toile fabric. Y'all did a fabulous job on the coverlet and shams! I've always loved this fabric and having it on my mom's bed brings a smile to my face and in my heart! Thank you so much for making this happen!!"
---
View more products like Kristy's in our Bosporus Billiard Collection. This beautiful fabric is also available in another colorway—the Bosporus Flax Collection. Stay tuned for more customer testimonials, and view more real-life pictures from other customers in our Customer Gallery.
Share Your Experience and Receive a $25 Gift Card to use on Our Website!
Do you love your new décor featuring products from Close to Custom Linens? Share your photos and experience online and receive a $25 GIFT CARD you can use on any future order from our website! Click here to start.
It's our way of saying "thanks" because we love hearing from our customers!